Supergeo is delighted to announce that the latest full-functionality mobile GIS, SuperPad 3.1a, is now released.  SuperPad is a full-functionality mobile GIS significantly designed for field mapping applications. Field surveyors can apply the system on a variety of mobile devices or handheld devices to collect, edit or measure spatial data, contributing great enhancement on data validity and usability.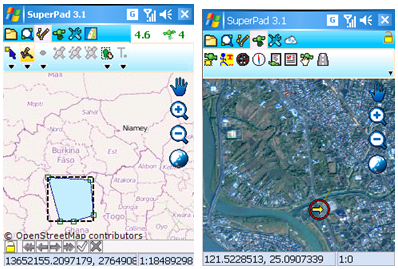 Several add-ons are added in SuperPad 3.1a to strengthen the acquisition and convenience, helping field surveyors collect data. Online Map Tool add-on allows users to use OpenStreetMap as a base map to conduct field survey, which saves time on base map preparation. Moreover, SuperPad 3.1a supports GPS satellite add-on, showing the GPS signals information on the interface simultaneously. In manipulation and editing, SuperPad 3.1a now is able to measure features. Besides, the connection with SuperGIS Server and online editing has been better improved as well.
To optimize the accuracy of collected data, GNSS driver, an in add-on is provided in SuperPad 3.1a, assisting recording satellite signals information when users are collecting spatial data. After that, users can add the collected data to SuperGIS Desktop 3.1a and post-process it with Differential GPS add-on so that the accuracy of spatial data can be greatly improved.
SuperPad 3.1a is launched globally; PC edition can be manipulated on Windows 8. As to the product news and software trial, please visit Supergeo website http://www.supergeotek.com/ProductPage_SP3.aspx or email us staff@supergeotek.com.