Featuring Customized Micro-Apps, Platform Connects People Based on the Context of Their Location; Helps Businesses Engage Mobile Users in Real-Time
SpotCues, the company that believes "who you are is where you are," announced the first location-based social network that connects people and apps based on a person's present context. SpotCues uses Wi-Fi or geofencing to create a social network at any location, where people can join the network in real-time, interact with mobile users near them, and access relevant apps specific to where they are. SpotCues is first launching into the enterprise, with plans to expand into other organized communities, such as sports venues, residential apartments, shopping centers and colleges in the coming months.
"Networking solutions for project collaboration are quite popular, but enterprises have long desired a culture-building tool designed specifically for social collaboration using mobile phones," said Praveen Kanyadi, co-founder of SpotCues. "SpotCues helps businesses create organized communities so that people in a shared environment can easily and securely connect and interact with each other — and businesses can serve up content that drives greater participation and engagement."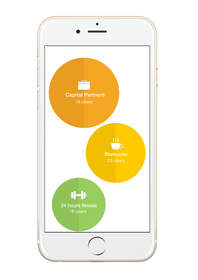 Adding Context to Location
Location-based networking solutions are not new. Most location-based apps leverage users' current location to connect with other users around a specific need, such as dating, chatting or checking in. Regardless of where the user is, the app experience remains the same, with the location acting only as a real-time filter for connections.
SpotCues takes a different approach to location-based networking. The company believes that every location has a specific context, and users interact differently depending upon whether they are at the workplace, watching a football game, or participating in a live performance. SpotCues addresses this gap by customizing the user experience based on the context of the user's location. As the user moves from one context to the other the SpotCues app automatically switches context.
How "Spots" Work
SpotCues leverages its location database to geofence local businesses, points-of-interest public places, stadiums, airports, etc., and calls them "Spots." SpotCues users are presented with Spots around their current location when they open the SpotCues app, and they can join any Spot with a single click — enabling them to instantly connect with other users who have joined the Spot.
When Spots are managed by Spot owners, such as workplace IT administrators, property managers, stadium owners or event organizers, these owners are able to use the Spot to build community. Owners can push relevant content and deploy micro-apps — HTML5-based applications which can be quickly developed and customized specifically for that Spot. This enables owners to drive participation and engagement for the users at their location.
Every time a user opens the SpotCues app on their phone and joins a spot, it automatically switches context to this Spot, and they get to see only the content and micro-apps available for this location.
Helping Enterprises Connect, Engage Employees
SpotCues is first launching in the enterprise to help large companies who often grapple with geographic and cultural segmentation to foster better teamwork and engagement. According to Deloitte, culture and engagement were HR professionals' two most important issues in 2015, with 50.8 percent of U.S. employees "not engaged" at work, according to Gallup.
SpotCues enables corporations to instantly deploy a company-wide mobile social network to connect all of the employees in a workplace, including multiple office locations. The SpotCues platform includes pre-built micro-apps for employee recognition and peer-to-peer engagement. These off-the-shelf apps include:
Calendar (Company calendar, with holidays and dates specific to their local office)
Events (Employees can view company events and RSVP directly from their phone)
Announcements (Leadership communications, which shows up in social feed)
Marketplace (Employee marketplace to buy and sell goods)
Meetups (Connection point for people with similar interests, i.e. foodies, gadgets)
Selfies (Employees post selfies to fuel office fun/camaraderie)
Recognition (Peer recognition app)
Timeline (A social photo timeline of user-generated photos to drive engagement)
In addition, enterprises can add existing corporate apps to their "Spot," the same way an individual would bookmark an app on their iPhone. Businesses can also quickly build and push out custom apps that map to their corporate social responsibility (CSR), wellness, team building, leadership and peer-to-peer engagement goals. Making apps available is fast and easy — with one-click deployment from the SpotCues dashboard.
Pricing Models
At launch, SpotCues is offering a freemium pricing model. The free version enables enterprises to instantly deploy their enterprise social network and drive employee engagement initiatives. This version includes the ability to create a Spot at a single office location, providing access to all employees at that location; a handful of off-the-shelf micro-apps; and admin capabilities to manage and customize the Spot.
The paid version enables enterprises to connect multiple office locations, provide employees remote access to the Spot, and allows IT admin to secure the Spot. In addition, this version includes additional micro-apps, an ability for the enterprise to deploy its own custom micro-apps, and additional storage. SpotCues will also offer support and consulting services around deployment, customization and strategy.
SpotCues is now available on the Android and Apple app stores. To experience SpotCues first-hand, download the app and tap on the "SpotCues Tour" Spot.
About SpotCues
SpotCues is the first social network that connects people and apps based on a person's present context. The company is privately funded by Pramati Group, an incubator that invests in cutting-edge technologies and people to create independent companies. Its portfolio companies include SocialTwist (www.socialtwist.com), WaveMaker (www.wavemaker.com), and Imaginea (www.imagine.com). Pramati employs 1200+ people across its global offices in the US, UK, Singapore, and India.